AmCham Shanghai Member Special: Up to 50% off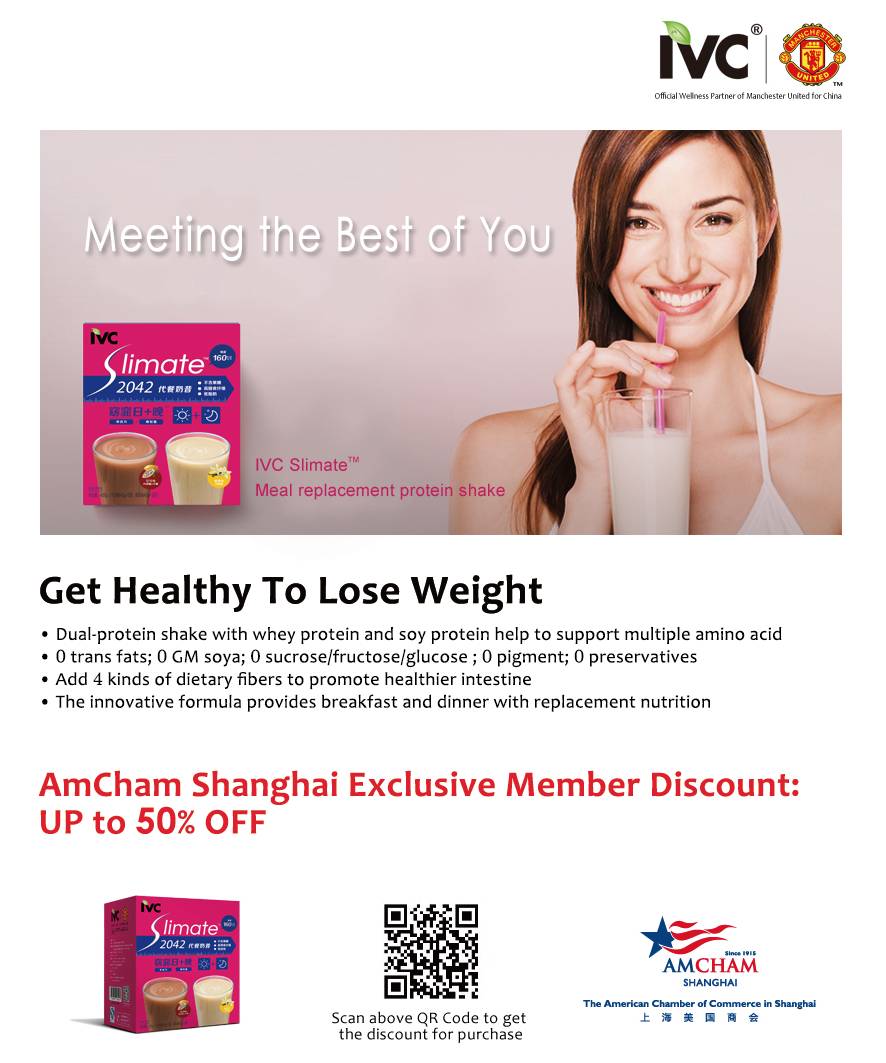 AmCham Shanghai Member Special: Wardrobe Rental 50% off for 2 persons
In front of Hangzhou Hongzhan Trading Company is the Hongzhan Shop in the Hangzhou Silk Market. The Hongzhan Shop has worked on silk processing trade since 1996. In 1998, the company was officially founded and mainly sold silk garments and other clothing items. This family firm has been operating for decades. Owned by Hongzhan Trading Company, JL Studio was founded with many talented designers in 2013. Among all the main products, the vintage women's and couture cheongsam stand out the most. In 2013, the brand's principal set up JL brand and launched a series of vintage women's clothing and marketing has been well received.
In 2014, French designer Aurélie JIANG joined JL studio. Her design reflects women's curvaceous beauty and was displayed and sold at Champs-Elysées. In 2015, JL launched a series of couture cheongsams and persist in hand-making every piece of cheongsam. The elaboration of JL studio is shown on every detail, such as high-quality silk rolls and exquisite frogs. The embroidered logos take one month to embroider. Because of this, every piece of artwork is unique. As Suzhou embroidery is a national cultural heritage, the beauty is represented on each piece of cheongsam though its long history. JL studio's outlets are located on Wulin Road (Hangzhou) and Route Cardinal Mercier (Shanghai).
杭州宏展贸易公司前身是杭州丝绸市场的宏展商铺,于1996年开始从事丝绸加工贸易。
1998年公司正式成立,主营业务为丝绸、服装贸易,是一家经营数十年的家族企业。
旗下JL工作室成立于2013年,JL工作室由众多设计师构成,其中复古女装以及高定旗袍尤为突出。
2013年 品牌主理人JL创立品牌,并推出一系列复古女装,市场反应良好。
2014年 法国设计师Aurélie JIANG 加盟JL设计,她的设计以流畅的线条感表达出女性的曲线美,其作品在Champs-Elysées有展示出售。
2015年JL正式推出高定旗袍系列,我们坚持每一件旗袍都是纯手工制作,每一卷蚕丝线,每一颗盘口,每一处细节无不体现JL工作室的用心。
旗袍上的刺绣图案需要绣娘耗时一个半月手工完成,也正是因为这样,每件作品都是独一无二的。苏绣作为国家非物质文化遗产,隔着悠长无声的岁月,娴静美好的在我们每一件作品上得以呈现。
JL工作室在杭州武林路以及上海茂名南路均有工作室及门店。
阿里巴巴国际站
官方微博:JL原创设计
微信公众号:JL设计(JLsheji)
Address: 139-1 Mao Ming Nan Road

Hours: 10:30-21:00
Telephone: 13685259595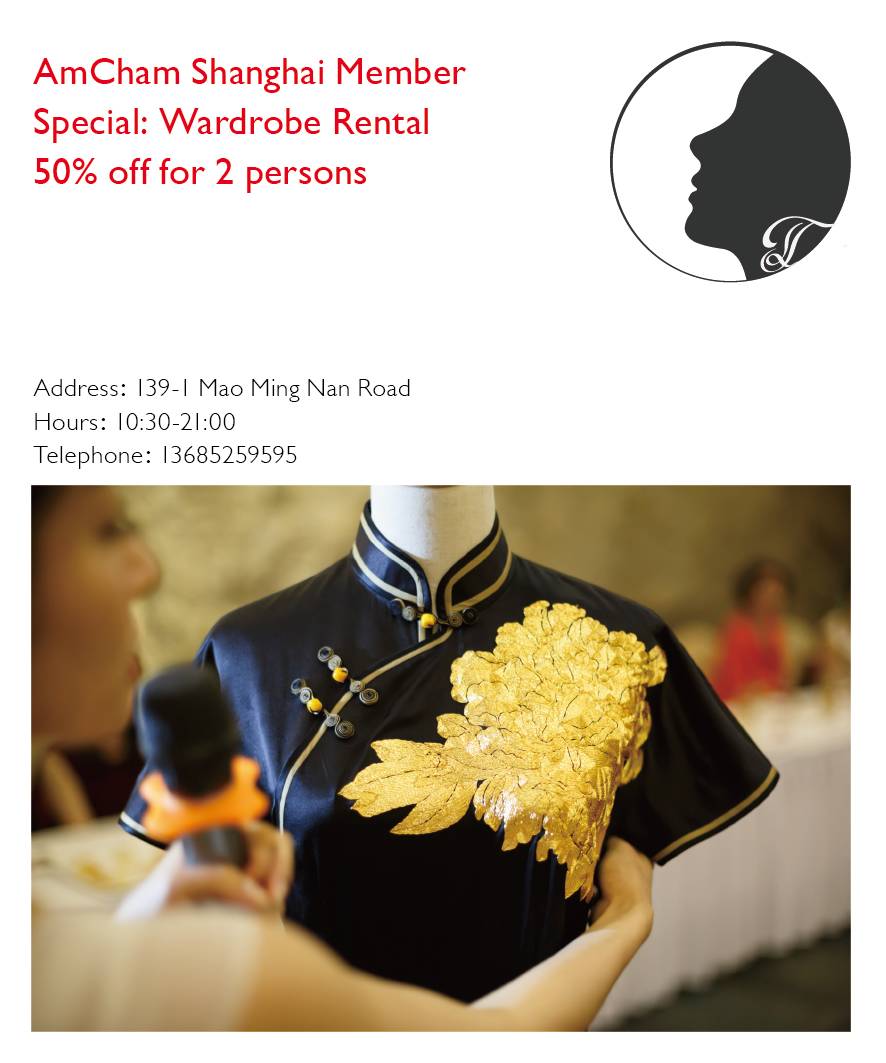 AmCham Shanghai Member Special: 12% off on menu. Free birthday cake to members dining in the restaurant
Taste and See is an Australian gourmet café serving brunch, high tea, dinner and drinks; now famous for its spectacular all day and night dessert buffet. The concept of Taste and See comes from Australian owner Kang Yang Lim's experience living in Melbourne. He offers first and foremost "Melbourne quality" artisan coffee along with an exciting menu with influences from around the world.
The space was designed by internationally renowned architects Neri & Hu, showing a tasteful combination of modern design with locally inspired accents. The light color palate of wood tones, white and cream-colored brick walls and wall-length windows facing the outdoor seating space of Taixing 99 offers an airy and open dining area with the dessert buffet table as the vibrant showpiece.
The dessert buffet spread offers 25 desserts at any one time, crafted by the pastry chef who hails from the Hotel Regent, Singapore. The mix changes by the day with a sweet and savory selection for brunch, and rich and indulgent selection for dinner.
Items on the menu focus on a refined selection of sharing plates, salads and quality mains. Signature dishes include Mama's Chicken Duet, Black Cod with Ratatouille, Chicken Schnitzel Burger and the T&S Whole Baked Icelandic Halibut.
位于泰兴路上的张园是沪上又一美食与夜生活新地标,紧邻南京西路繁华地段。经过翻新改建重新开放的张园更显宽敞。走进泰兴路,便是另外一番别具特色的天地,园内如今聚集了不少酒吧新餐厅,Taste and See就是其中一家特色餐厅,提供早午餐、精美下午茶、晚餐还有最具特色的全天甜品自助哟!
Taste and See餐厅洋溢着轻松别致的氛围,餐厅由如恩设计研究室(Neri&HU)团队打造,呈现出舒适的现代感,原木色桌椅搭配白色砖墙,一整排明亮的窗户面对着静谧的石库门大院,充分扩大室内采光,很适合这春日暖阳季节和好友们在此聚餐。
Taste and See餐厅最特别之处在于其的甜品自助部分,这种来自澳大利亚的自助甜品模式,自进入上海后,便备受欢迎,高品质咖啡或是茶饮,搭配无限畅吃的甜品,足以为你带来最浪漫的味蕾之旅。除此之外,这里菜单也是汲取澳洲多元化饮食文化的灵感:香煎鸡胸肉搭配包裹意大利香肠和苹果洋葱酱卷成的慢烤鸡腿肉、香煎银鳕鱼、招牌冰岛烤比目鱼,每一口都让人心花怒放!如果你是一个大胃王,一份Taste and See的招牌炸鸡肉汉堡下肚绝对让你爽到胃!精美的菜肴散发出诱人的香气,瞬间将人们的食欲提至最高点,搭配薯条一起食用,让人从心底感受到一种满满的幸福感,不由地期待下一次来这再聚餐。
Address: 99 Taixing Road, near Nanjing West Road
Telephone: 021 52831977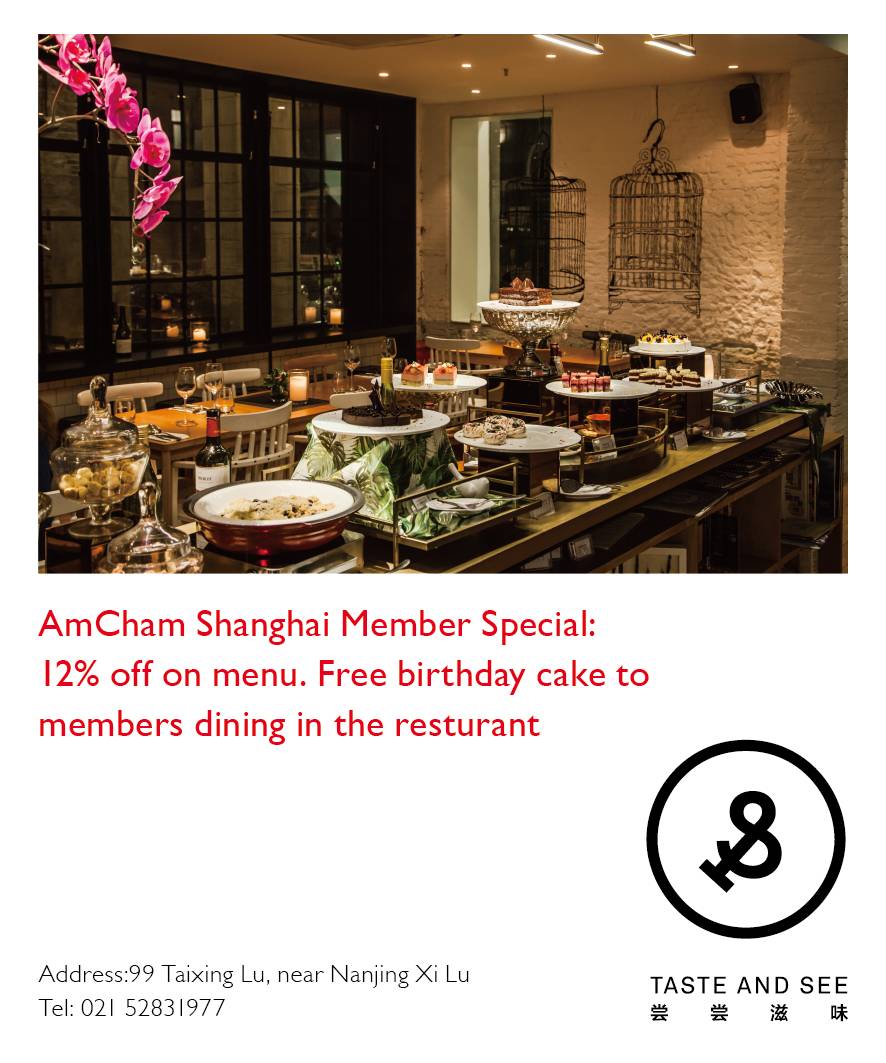 Package: Gilardino Oyster Dinner Set, Original Price: RMB888/set
AmCham Shanghai Member Special: Gilardino Oyster Dinner Set RMB488/set (46% off), includes 1 Dozen Gilardino oyster/12pcs + 1 bottle of Prosecco
After 9:30pm, excluding Fridays and Public Holidays
Address: No.388 Madang Road, near Xintiandi
Telephone: 021-63319198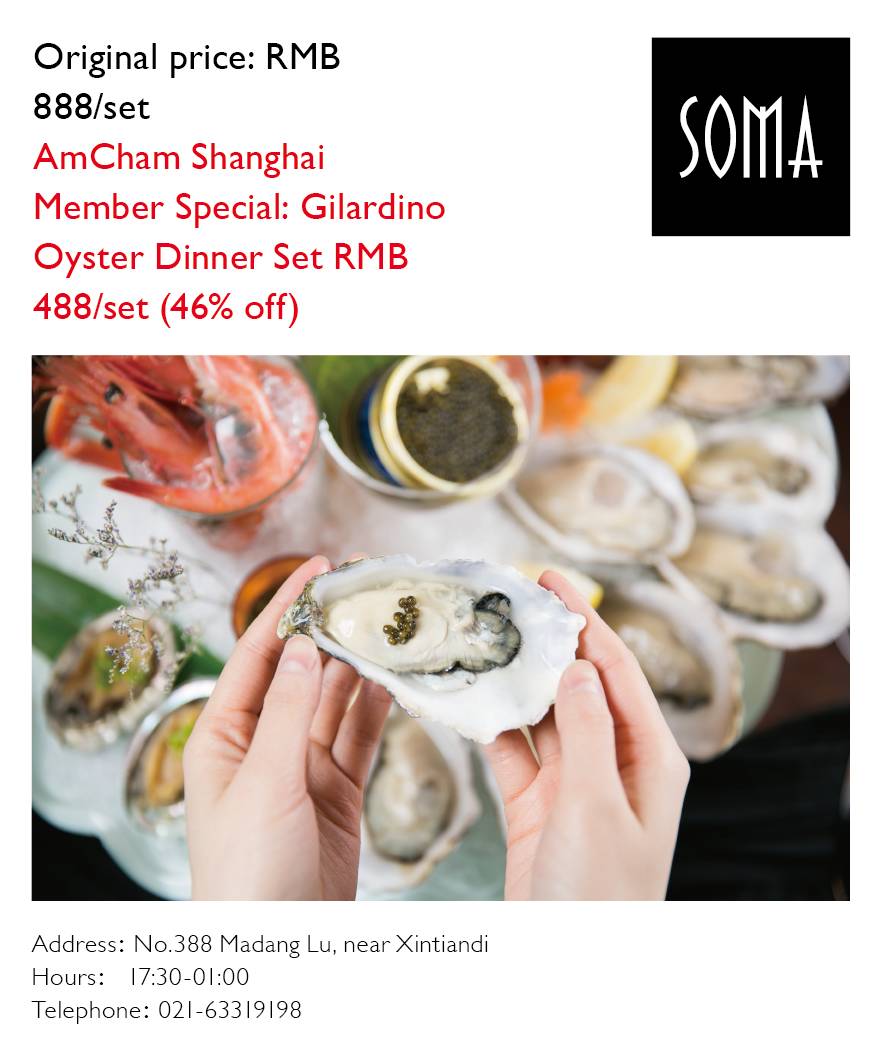 AmCham Shanghai Member Special: 15% off
Magnet is one of Shanghai's newest up-market eateries. By day, it's a gourmet restaurant headed by a chef with more than thirty years experience cooking in fine dining restaurants across France and China. Come nightfall, Magnet takes on a new purpose, that of an up-scale bar, catering to all occasions. Magnet is run by Jing, one of the main partners of Yongfu Lu's infamous Shelter. He might have left the techno scene, but he has brought with him his passion for music. Here, soulful jazz as well as a smattering of reggae and jazz funk are the order the day.
The décor is interesting -reclaimed timber floors creep up the walls where they are met by mirrored panels. Floor to ceiling windows let in an expanse of natural light and the interior space seats 25-30 people. However, the restaurant spills outside where there is room for another 20 or so.
As a cocktail bar, Magnet is impressive. Try the signature cocktail — the Magnet. As of yet they have no fixed recipe, so they will concoct it on the fly, making it completely different each time. It is a mark of how skilled Magnet's mixologist is that he can make such a quality drink out of thin air. In all, Magnet is an attractive place to escape from the shopping mall, or equally, to catch a drink with colleagues after work.
Magnet餐厅出自Shelter酒吧老板之手,装修极其简约。小小的露台精致迷你,宽大的落地窗遮挡喧嚣的同时引入自然光线,使得室内明亮通透。实木桌椅、皮沙发座、不长的吧台以及随处可见的鲜花,处处透露着简约的小情调,让人倍感舒适。入夜,这里便化身为性感休闲酒吧,和Shelter有着异曲同工之妙。
餐厅大厨拥有21年烹饪经验,曾在美国、新加坡等多个国家的高级餐厅就职,在传统法餐的基础上加入美国、俄国、新加坡等世界美食元素,打造风味独特的创意法餐。柔嫩的鹅肝苹果、招牌桃木烧烤蜜汁猪肋排、蜂蜜烧烤胡椒鸡、白兰地奶油焗大虾等佳肴都备受欢迎。
值得一提的是,餐厅也为喜爱西餐的素食主义者准备了多款素食美味,如用多种菌菇代替了传统的法国云吞馅料精制而成的芝士番茄焗蘑菇云吞等。总之,无论是情侣约会,还是好友小聚,这里都是绝佳选择,无论是环境、美食,还是音乐,都将带来特别的就餐体验。
Address: 9F, Second Block, No.198 North Xizang Road
Hours: 10:00-22:00
Telephone: 021-60735004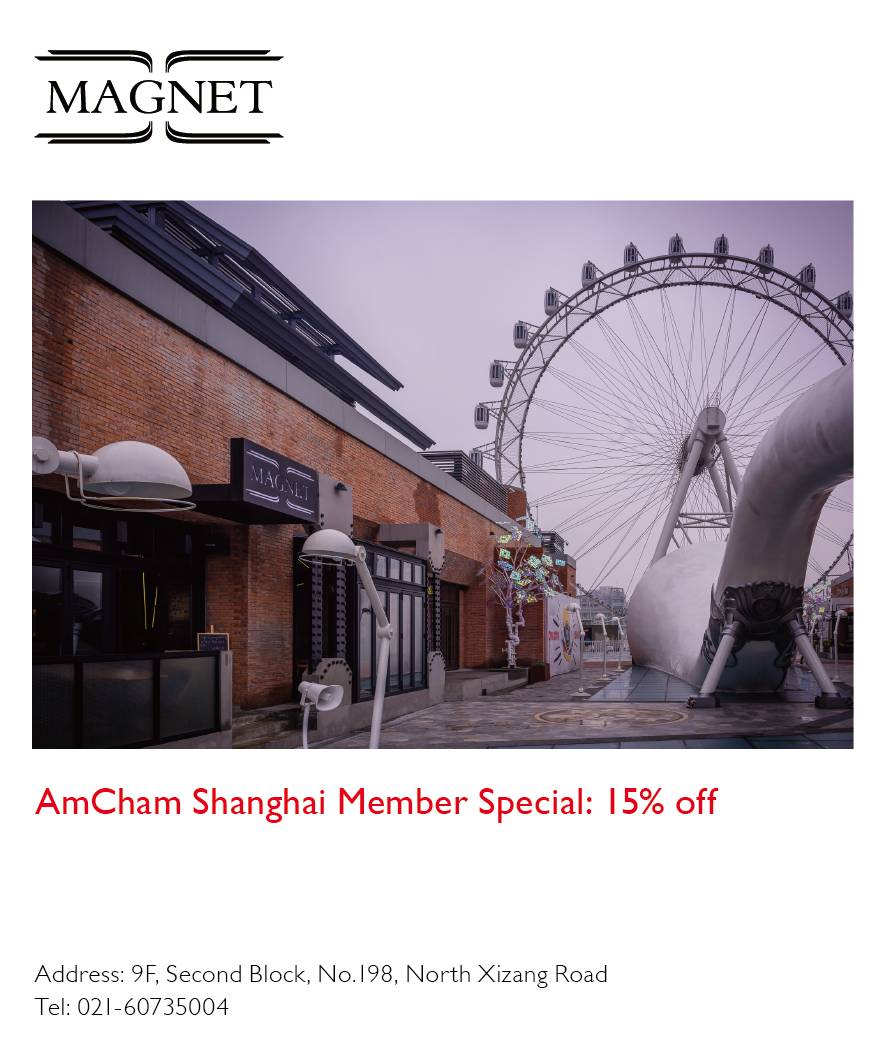 AmCham Shanghai Member Special: Buy One Get One Free every Monday - RMB228/person (Lunch), RMB328/person (Dinner)
Price is subject to 15% service charge. No discount on service charge provided.
Walk through a portal within the full height satin brass wine rack and arrive at the relaxing Marriott Café located on the 38th floor of the hotel. The sweeping curves of the buffet counters in the center and the crescent ceiling of the Café brings a fun and bright atmosphere for casual dining. Open for breakfast, lunch and dinner, Marriott Café offers a choice of an international buffet selection featuring mouthwatering seafood, sashimi, sushi, salads, live cooking and carving station, dessert and traditional Indian curries, as well as an extensive à-la-carte menu.
万豪咖啡厅位于酒店的三十八楼,透过巨幅的落地玻璃窗,把申城美景尽收眼底。咖啡厅以国际化的特色美食为特色,全日提供新鲜美味的自助餐及丰富的零点菜单,包括丰盛的海鲜、寿司、刺身、色拉、各类腌制熏肉、传统印度美食和精美甜点以及现场烹饪的各种食材,为客人的早、午、晚餐提供了多样选择,更是食客品尝早午餐的绝佳地点。
Address: 38F, 399 Nanjing West Road
Hours: 11:30am-2:00pm, 6:00pm-9:00pm
Telephone: 5359 4969 *6422
Package: Fine Dining Six Course Dinner Set, Original Price: RMB646/person
AmCham Shanghai Member Special: Fine Dining Six Course Dinner Set RMB646/set (50% off), includes a glass of red wine of your choice + appetizer
Address: 3F, Block 7, Lane 458, Wai Ma Road, Huangpu District
Hours: 17:30-22:00
Telephone: 15800505002
黄浦区, 外马路458弄7号楼3楼,近毛家园路
时间: 17:30-22:00
电话: 15800505002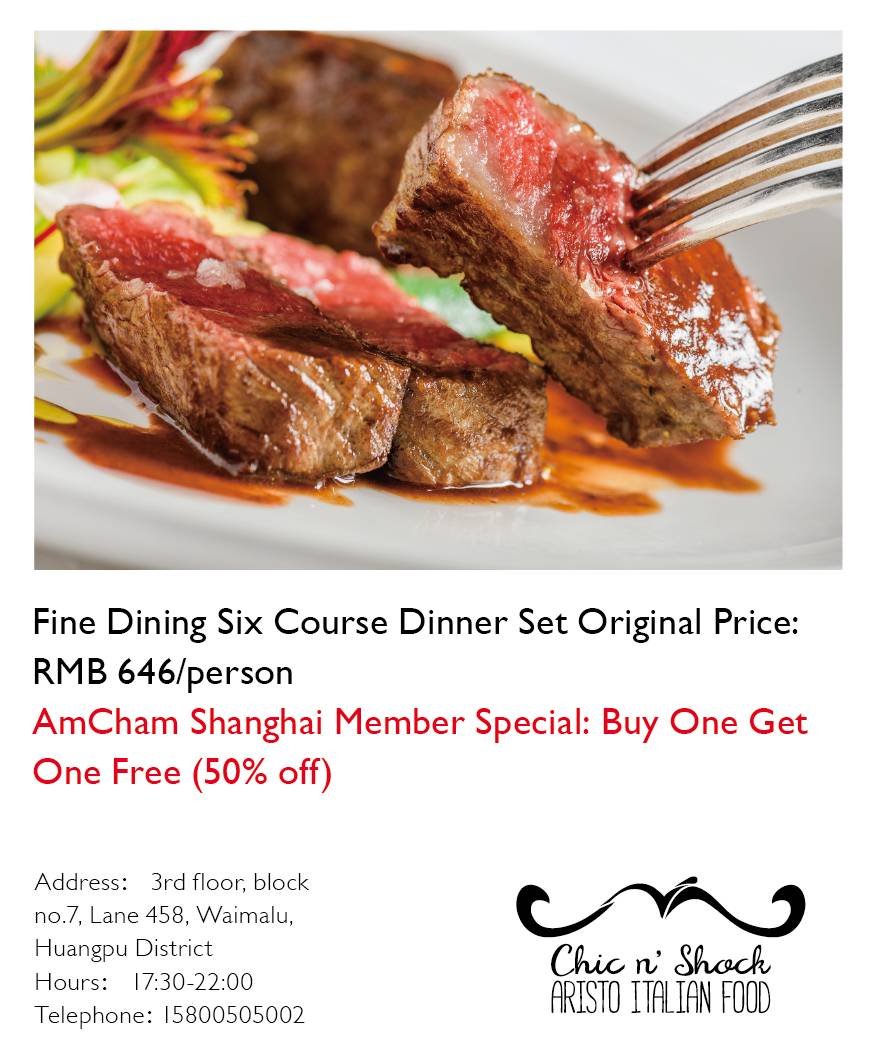 AmCham Shanghai Member Special: 20% off all pasta. Buy a standard pasta and beverage; get a second pasta of same or lower price for free.

With three branches scattered across the city, California Pizza Kitchen is fast becoming a household name. All the branches are characterized by airy spaces and floor-to-ceiling windows, sleek edges and clean, fuss-free decorations, very easygoing and casual, perfect for quick business lunches or cozy gatherings.
The pizzas here are Californian-style - a little thicker than the Italian variations, but not as chunky or chewy as their New York counterparts. There are easily over fifteen different options on offer, from something as classic as the Pepperoni or the Hawaiian, to more innovative flavors like the Roasted Duck and the Cheese Burger Pizza. Also available are a decent range of pasta and rice dishes, plus two meat dishes in the form of a Grilled Ribeye Steak and a Baby Back Ribs.
1985 年,第一家California Pizza Kitchen 餐厅于美国加州比利佛山庄成立,基于"我们不是美式披萨,不是意式披萨,只是加州披萨"这一伟大的理想,California Pizza Kitchen开始向全世界展现真正加州风味的批萨,以充满想像力的创意手工披萨兴起,并以健康、融合式的加洲风味风靡全美乃至全球。如今品牌创立30年,已经在全球208 个城市拥有超过300 家餐厅,California Pizza Kitchen自2011年进入上海,现在已经有了三家门店。
餐厅设计为简约又温馨美式家庭风格,营造轻松欢乐的气氛,非常适合朋友聚餐、家庭聚会。California Pizza Kitchen坚持新鲜面团,手工抛制,保证了披萨的韧性与良好口感,目前菜单有十八款口味,烤出来的披萨外脆内软,口感介于传统意大利薄底披萨与美式厚底披萨之间,形成加州披萨的独特口感。California Pizza Kitchen喜爱寻找来自世界各地的烹饪灵感,制作让你意想不到的创意美味,北京烤鸭披萨、宫爆虾仁意面、加州烤鸡肉色拉等颠覆传统的料理将为你带来一场味蕾革命。
68 Yuyuan Road (near ChangDe Road), 5-20, 5F
Telephone: 021-52912287
679 Zhong Shen Nan Er Road
Telephone: 021-61205850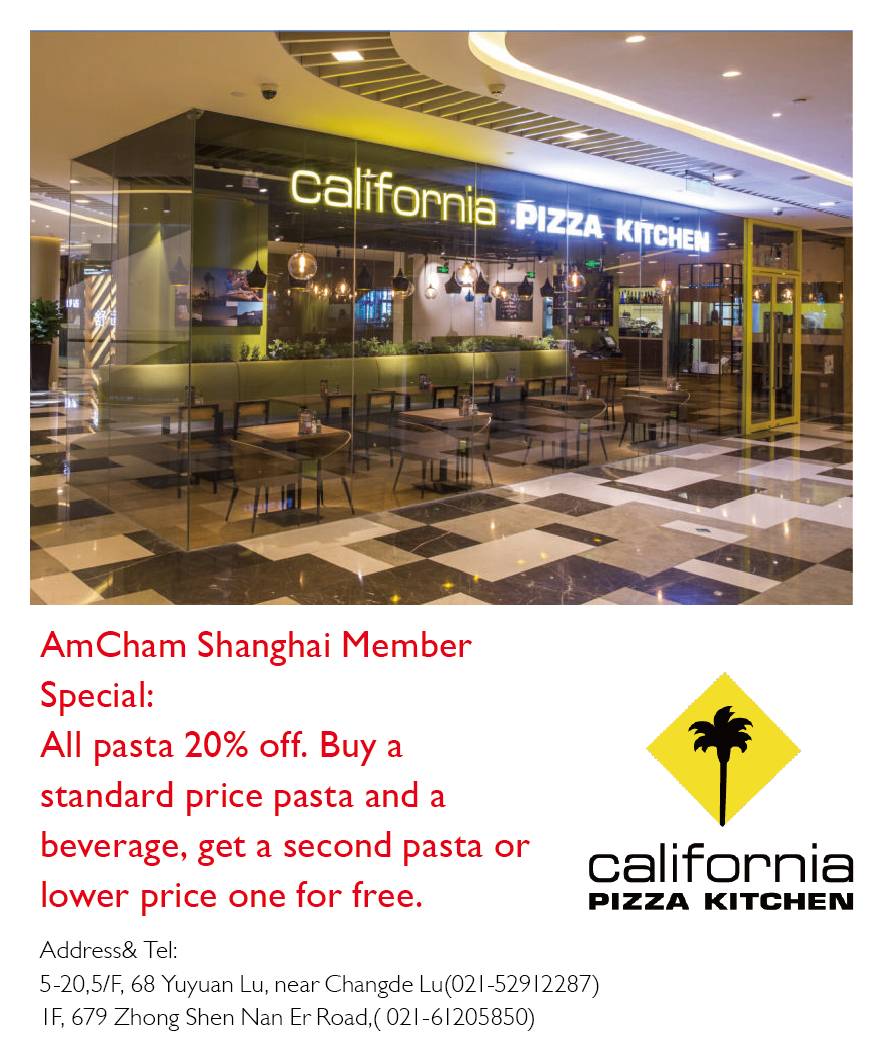 Terms & Conditions:
Validity: May 1 - May 30, 2016. Please reserve one day in advance.

Please present AmCham Shanghai Membership Card at cashier.

Non-transferable, valid only for offer shown, cannot be exchanged for cash.

May not be used with other offers.

Please contact restaurant staff for further information.
【Follow Us 关注我们】

(Scan or long-press the QR code below or search "上海美国商会" in Official Accounts 扫描或长按二维码,或搜索公众号"上海美国商会")